Big Birds, Rainbows, and Baseball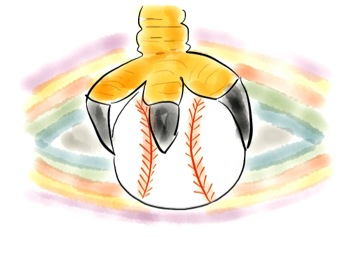 I don't have a single theme to reflect upon today, so I'll just write about various and sundries. Mostly I'll write about my hobbies.
I use my Twitter feed and Facebook account (you can follow me on both by clicking on the icons at the very bottom of the page) primarily to call attention to significant pieces of writing that I want to recommend to people. A couple of days ago The Public Discourse published this remarkable piece written by an adult raised in a home with two lesbian mothers. It is extremely thoughtful and, unlike so much Internet commentary on the same-sex "marriage" issue, provides significant light rather than just heat. I highly commend it to you.
I want to return for a moment to my previous blog post on the Peter Enns fiasco at Westminster Seminary. In that post I made the assertion that Enns denies the doctrines of biblical inerrancy and infallibility. I did not think this was particularly controversial, but I see that at least one commenter on this site thinks that the accusation is slanderous. I think he means "libelous," but no matter. I certainly do not want to be guilty of libeling somebody, so a brief comment is in order.
Not only did I base that comment on my own reading of Enns's nearly entire oeuvre (I perused, but didn't read, for example, his Harvard doctoral dissertation), but because Pete has personally told me that he is not a fan of, for instance, the Chicago Statement on Biblical Inerrancy. This was way back when I was his student and we attended church together. He further told me that he wanted a doctrine of inerrancy that would accommodate human error, forgetfulness, and so forth. I don't think I'm on very shaky ground, as his published writings simply double-down on that desire.
Aside from him personally expressing to me a lack of enthusiasm for inerrancy, his own "incarnational" doctrine of divine inspiration vitiates the doctrines of inerrancy and infallibility, or at least stretches the concepts in a way that makes them meaningless. His entire point all along is that the Bible has internal errors (yes, I know he calls them "tensions." I can never figure out the difference, and he never bothers to specify any) and theologically conflicting viewpoints. He resolves that "problem" by saying that that is exactly how God, in his "accomodation," speaks. It is God who speaks through men in errant, fallible ways. Just as Jesus took on all the frailty of human nature, so also in God's revelation he took on the frailty of human nature. And, for Enns, (crucially) that "frailty" means error and inconsistency. And we should just be satisfied with that. Trying to resolve or find consistency and unity in the diversity of the Scriptures is, for Enns, an act of disobedience and rebellion to the way God has chosen to reveal himself. If God communicated in errant ways, who are we to try to clean it up? This is why I wrote that, for Enns, God's revelation is reducible to the fallible words of men. I do not see any way of denying that this is accurate, and I stand by it. Accusations of "slander" or libel are easy to make in blog comments; establishing them will require a bit more labor.
The river was generous to me over the weekend. I caught a dozen fish on Rosebud Creek, the majority of which were on the smallish side. But I managed to land two exquisitely beautiful and large Rainbow Trout that were very worthy of keeping. Catching them was a bit of a challenge because the moment I waded upriver to the particular hole I wanted to fish a Bald Eagle swooped over my head, banked into a wide turn, and returned to land on a large dead tree directly across the stream above me. That very large, glorious bird sat on the branch and, whenever I hooked a fish, squawked at me. Quite distracting. I think he wanted me to toss one up to the bank for him, but I audibly told him, "Get your own. God gave you the eyes and the skill; it should be easy. I, on the other hand, am working very hard to get these fish, thank you very much." He eventually moved on. His company was pretty thrilling, I must say.
I always like it when I don't need to spend a lot of time rummaging through my fly-box. I know this river well, having lived there for a couple of months last year. In this case, I simply know that a rig of a Copper John followed by a Prince Nymph dropper will do the trick. Sure enough, that Prince got slammed on the first cast and the action never really let up. I had wanted to try a Hopper which, being a dry fly, is much more fun, but I followed the ancient maxim: if it ain't broke, don't fix it!
A few comments on my other pastime. As awful a season as the Minnesota Twins have had, there is a chance they will end up making this year at least respectable. A third place, .500 finish would satisfy me. The offense has been very good over the past few weeks, and the starting pitching (the sole reason we're in this miserable hole) is improving with the discovery that Scott Diamond is capable of pitching in the big leagues. Justin Morneau is suddenly looking like the MVP he was a few years ago. Joe Mauer is Joe Mauer; fans always griping about a guy who steadily and quietly puts up Hall of Fame numbers with apparent ease. Yes, he's not the most flamboyant player, and the exciting moments are maybe not as plentiful as other marquee players. I don't know how you knock a guy batting over .320 with an on-base percentage of .415, but, alas, many do.
But those exciting moments are... pretty exciting. It is too bad this video does not contain the entire at bat, but Mauer's ten-pitch battle with flame-throwing Aroldis Chapman was one for the ages. It prolonged the game, put the tying run on, and was beautifully followed by Josh "The Hammer" Willingham crushing a game-winning two-run shot. Or how about Mauer's go-ahead three-run blast in the ninth against the Red Sox this weekend? You should see the pitch he took for a ball on the 2-2 count. It was unreal.
The team has some really likable players this year, and has some quiet Christian gentlemen that I really appreciate. Denard Span and Ben Revere are prolific on Twitter, and, while not exactly all Tim Tebow, still take the opportunity to give thanks to God for the game and the privilege of playing. Josh Willingham seems a very quiet, almost shy, player; from the looks of his wife's Twitter account, they seem to be devout followers of Jesus. Oh, and Josh is having the year of his career.
One last baseball comment. For some inexplicable reason the Twins brought back Tsuyoshi Nishioka from Triple-A this week after letting go the deeply disappointing Danny Valencia. Let me be clear: Tsuyoshi Nishioka is singularly the worst baseball player I have ever witnessed. The Twins scouts, who led the team to bid a heart-sickening amount of money for Nishioka's services from the Japanese leagues, should all be summarily fired. Nishioka was sent down to the minors to hopefully salvage something out of him. That is, they wanted him to become a baseball player. He only batted .245 in Rochester, utterly incompetent for a light, speedy, Ichiro-posing, slap-hitting second baseman. Sure enough, upon his return last night, he promptly went 0 for 6, and his first defensive play was the worst play I have ever seen by a second baseman. A slow two-hopper, chest high, bobbled, picked up, stumbling, falling, throwing off target, landing flat on his face in the dirt. Are you kidding me? Seems like a nice enough guy, and I actually feel very bad for him, being from an honor/shame culture. Getting paid a total of $15 million and failing as spectacularly as Nishioka has cannot be easy for a Japanese player. But I do know, beyond a shadow of a doubt, he cannot be salvaged as a Major League Baseball player.
During the course of the broadcast Twins color analyst, Hall of Fame pitcher Bert Blyleven (whom I once bumped into in a convenience store in downtown Minneapolis), made the following (paraphrased) comment: "The coaching crew down in Triple-A told the club that they thought Nishioka was ready to come back up to majors."
If that is the case, I demand that every single coach in Triple-A be summarily fired. Seriously.
If you like baseball writing, might I suggest you check out my friend Adam Feralio's two-part series on his current cross-country trip visiting different ballparks? Adam is a young college student (and former very good outfielder) aspiring to be a sportswriter, and I think he has the knack for it. I think you'll agree.